LATEST UPDATES: Rep. Salud Carbajal Becomes Latest Member Of Congress To Test Positive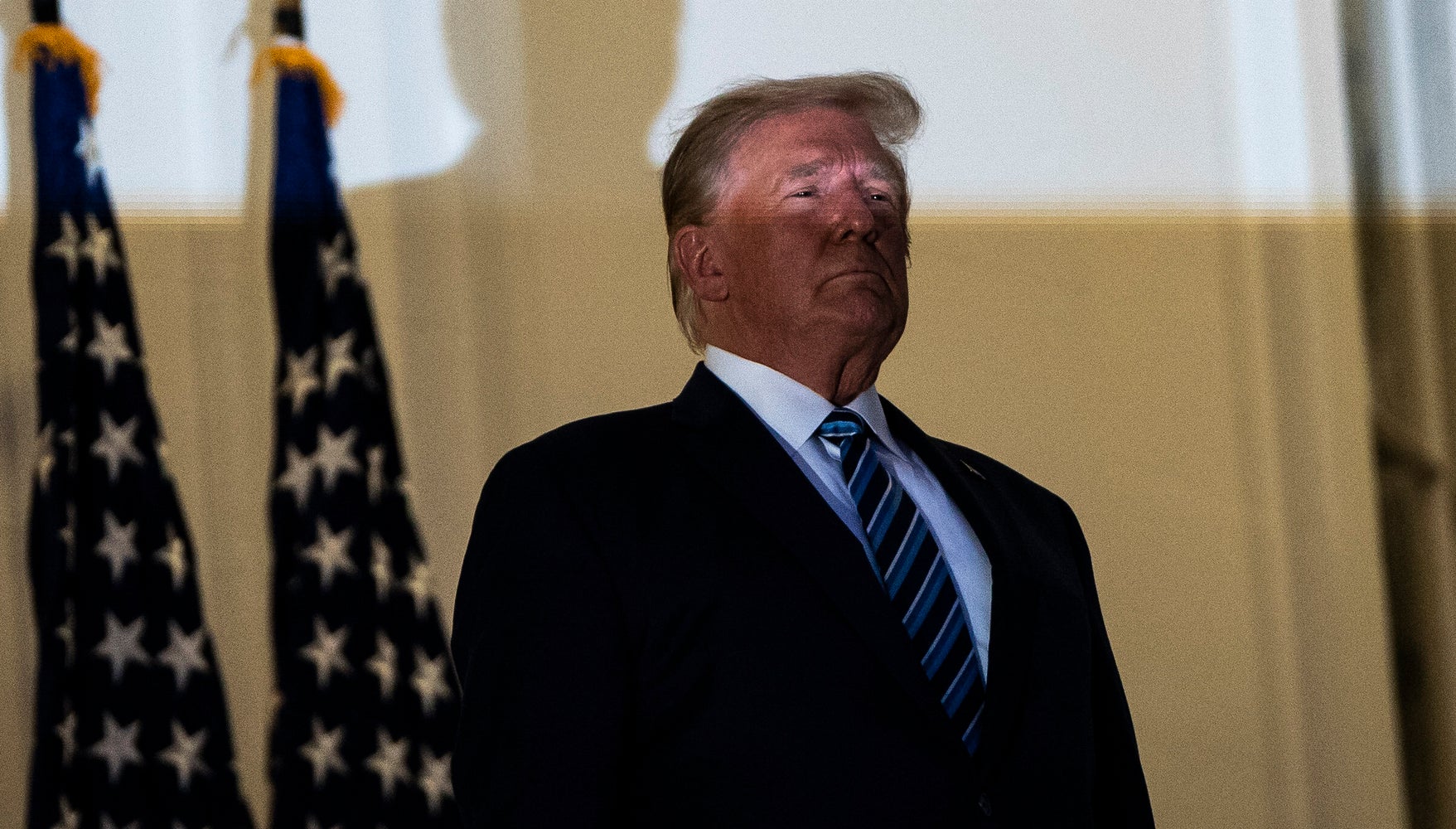 Read the latest updates below. (To see the latest updates, you may need to refresh the page. All times are Eastern. For earlier updates on the White House outbreak, go here.)
Rep. Salud Carbajal Becomes Latest Member Of Congress To Test Positive — 10/7/20, 5:30 a.m. ET
Rep. Salud Carbajal (D-Calif.) said he has tested positive for the coronavirus after experiencing symptoms, he wrote in a statement on social media Tuesday evening.
He said Monday he had tested negative after being exposed to an individual who had tested positive, but after his symptoms started he tested again and it came back positive. He has been quarantining in Washington since his exposure.
"I hope this serves as a reminder of how easily this virus can spread. I followed every precaution, including wearing a mask, social distancing, and hand-washing and unfortunately was still exposed. It is incumbent on every single one of us to take careful precautions in order to protect the health and safety of those around us," he wrote.
While Carbajal didn't name the individual in his statement, his spokeswoman told News Channel 3-12 that the person was Sen. Mike Lee (R-Utah), who tested positive for COVID-19 last week along with two other Republican senators.
More than a dozen House members have contracted the virus in recent months.
— Liza Hearon
White House Staff Take Stronger Precautions Interacting With Trump ― 10/6/20, 10:13 p.m. ET
Months after neglecting public health recommendations, the White House is reportedly strengthening its coronavirus precautions as of Tuesday so that staff are somewhat kept safe while interacting with an infected President Donald Trump, who is not following those same precautions.
An internal White House memo obtained by The Washington Post urged staffers to "limit all foot traffic on the first floor of the West Wing as well as in the Residence" and says that "staff should only go to the Oval Office or the second floor Residence when they are requested and expected."
Staff members who do visit those areas, where Trump lives and holds meetings, are reportedly required to don personal protective equipment provided in an "Isolation Cart" that includes a yellow gown, surgical mask, protective eyewear and gloves.
At least nine White House employees have now tested positive for the virus, including senior adviser Stephen Miller, who reported receiving a positive result Tuesday evening.
Staff are reportedly trying to implement safety measures without upsetting their infected boss, who continues to undermine virus precautions and ignore basic safety protocols.
― Sanjana Karanth
Biden: Debate Shouldn't Happen If Trump Has COVID-19 ― 10/6/20, 7:51 p.m. ET
Democratic presidential nominee Joe Biden said Tuesday that the Oct. 15 debate scheduled with President Donald Trump should not take place if the president still has coronavirus at that time.
"If he still has COVID, we shouldn't have a debate," Biden told reporters in Hagerstown, Maryland.
Trump tweeted earlier Tuesday he is "looking forward" to it despite his diagnosis.
― Mollie Reilly
Stephen Miller Tests Positive — 10/6/20, 7:04 p.m. ET
Top White House adviser Stephen Miller has tested positive for the coronavirus.
"Over the last 5 days I have been working remotely and self-isolating, testing negative every day through yesterday. Today, I tested positive for COVID-19 and am in quarantine," Miller said in a statement.
Miller attended debate preparations with President Donald Trump last week, during which attendees did not wear masks. Several attendees, including the president and former New Jersey Gov. Chris Christie, have since tested positive for the virus.
— Mollie Reilly
Pence's Team Doesn't Want Plexiglass Protection At Debate With Harris — 10/6/20, 4:55 p.m. ET
Vice President Mike Pence's team does not want a plexiglass barrier on his side of the stage to prevent the spread of coronavirus at Wednesday's vice presidential debate, CNN reported. Democratic nominee Sen. Kamala Harris plans to have a plexiglass barrier on her side, between herself and Pence. But the vice president's team reportedly doesn't think it is "necessary" to have on on his side, too.
More than a dozen people surrounding Trump, including the president himself, the first lady and at least three Republican senators, have tested positive for coronavirus in recent days. Pence so far has tested negative.
— Sarah Ruiz-Grossman
Trump's Doctor Says President Reported 'No Symptoms,' But Offers Few Details — 10/6/20, 1:30 p.m. ET
White House physician Sean Conley gave an update Tuesday on President Donald Trump's health, saying that he's doing "extremely well," but giving almost no details about his COVID-19 infection.
In a letter, Conley said that Trump reported no symptoms to the team of physicians who met with him at the White House. However, what is contained in the letter is the medical information that Trump allowed him to make public, Conley said.
"Vital signs and physical exam remain stable, with an ambulatory oxygen saturation level of 95-97%," Conley wrote. "Overall he continues to do extremely well, I will provide updates as we know more."
Conley has refused to be fully transparent to the press and the public about the president's health since he tested positive for the virus on Thursday. The doctor acknowledged that he tried to paint a rosy image of Trump's condition in his first briefing of the weekend "and in doing so, came off like we're trying to hide something."
On Saturday, Conley refused to directly say whether the president was given any oxygen — only to admit the next day that he had ordered oxygen for Trump on Friday morning. On Sunday, the doctor said Trump was doing well enough to send him back to the White House from Walter Reed Military Medical Center, while simultaneously announcing the president's blood oxygen levels twice dropped below 95% and that he was given a steroid only recommended for the very sick.
Conley's letter on Tuesday did not say whether Trump has received his scheduled fifth and final dose of remdesivir, an antiviral drug authorized by the Food and Drug Administration for emergency use to treat hospitalized COVID-19 patients.
The medical team has also still not said when Trump last tested negative for COVID-19.
— Sanjana Karanth
Pence 'Encouraged To Go About His Normal Activities,' Doctor Says — 10/6/20, 1:20 p.m. ET
Vice President Mike Pence "has remained healthy" and is "encouraged to go about his normal activities," according to a note from White House physician Jesse Schonau released Tuesday afternoon. Pence does not need to quarantine, the doctor said. He undergoes rapid antigen tests daily and "intermittent" PCR tests for the virus, which have "all resulted as negative," the memo said.
The vice president is not considered a "close contact" of the president or senior members of the administration, according to Centers for Disease Control and Prevention guidelines. Trump, meanwhile, has continued to recuperate in his White House residence following his coronavirus diagnosis.
— Sara Boboltz
Gen. Mark Milley, Members Of Joint Chiefs Of Staff Quarantining — 10/6/20, 1:10 p.m.
The most senior U.S. military officer, Gen. Mark Milley, and several other members of the Joint Chiefs of Staff are reportedly quarantining on Tuesday after a top Coast Guard official tested positive for the coronavirus.
Though Milley has so far tested negative, he and other defense officials are taking precautionary measures after the vice commandant of the U.S. Coast Guard, Adm. Charles Ray, tested positive on Monday. The Coast Guard said Ray is quarantining at home and officials have begun the contact tracing process.
Meanwhile, Trump returned to the White House on Monday, still infected with the virus. Immediately after stepping off Marine One, Trump stood on the White House balcony and removed his mask for a photo op.
— Sebastian Murdock
Facebook Removes Trump Post For Spreading COVID-19 Misinformation — 10/6/20, 11:25 a.m. ET
Facebook on Tuesday removed one of President Donald Trump's posts because it violated the site's rules against spreading COVID-19 information, CNN reported.
The post, shared on Trump's Facebook account earlier Tuesday, downplayed the threat of the coronavirus and compared it to the flu. He said many people die from the flu every year and that Americans have "learned to live with it."
"Just like we are learning to live with Covid, in most populations far less lethal!!!" the president wrote on Facebook.
As of Tuesday, there have been at least 210,000 coronavirus-linked deaths in the United States. About 22,000 people in the U.S. died from the flu during the 2019-20 flu season. The U.S. has recorded more coronavirus cases ― more than 7.4 million ― than any country in the world.
Trump also shared the same coronavirus misinformation in a tweet Tuesday. Following Facebook's removal of Trump's post, Twitter added a label to the president's tweet stating that it violated the site's rules on "spreading misleading and potentially harmful information related to COVID-19."
"However, Twitter has determined that it may be in the public's interest for the Tweet to remain accessible," Twitter's label stated.
― Hayley Miller