Coronavirus Live Updates: Moderna Says Its Vaccine Will Not Be Ready Until Spring 2021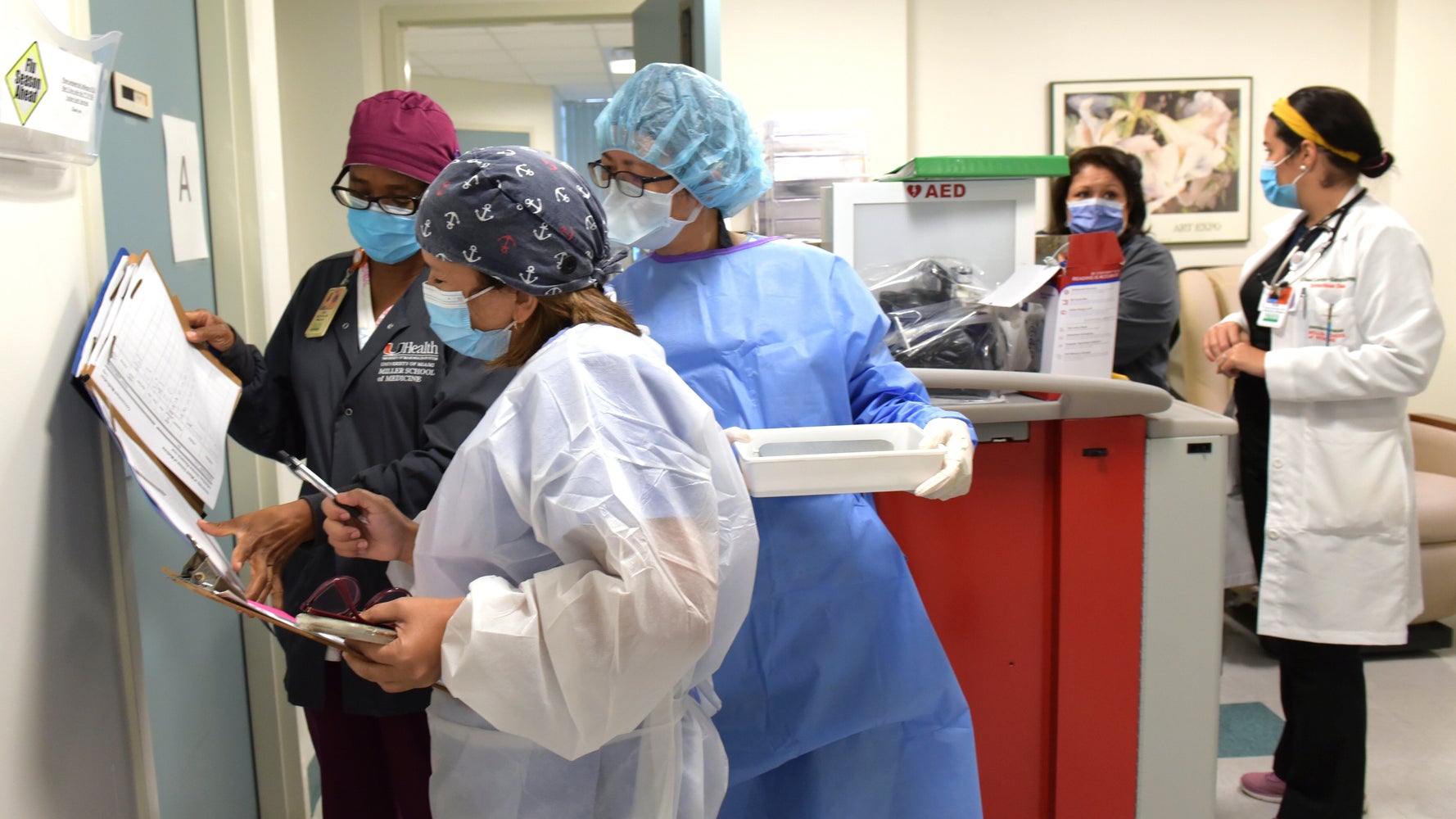 HuffPost reporters around the world are tracking the pandemic and its effects.
Read the latest updates on the coronavirus pandemic below. (To see the latest updates, you may need to refresh the page. All times are Eastern. For earlier updates on the pandemic, go here.)
Donald And Melania Trump Test Positive For COVID-19 ― 10/2/20, 12:55 a.m. ET
President Donald Trump and first lady Melania Trump have tested positive for the coronavirus.
Trump announced the news with a tweet just before 1 a.m. on Friday morning. The news came after one of Trump's most senior advisers, Hope Hicks, tested positive for the virus Thursday after traveling with Trump on board Air Force One earlier this week.
The president's physician, Dr. Sean Conley, wrote in a White House memo that he received confirmation of the diagnosis on Thursday evening.
"The President and First Lady are both well at this time, and they plan to remain at home within the White House during their convalescence," Conley wrote. He claimed Trump would "continue carrying out his duties without disruption while recovering."
— Josie Harvey
Spain Set To Lock Down 3 Million People In Madrid — 10/1/20, 4:30 a.m. ET
The Spanish government is set to order the lockdown of Madrid, barring residents from leaving except on essential trips, setting up a legal battle with local authorities. The capital city, with more than 3 million people, and nine surrounding municipalities with at least 100,000 residents each, are to see borders closed to outsiders for non-essential visits.
Other measures will include the closure of bars and restaurants at 11 p.m., from a previous curfew of 1 a.m., as well as shutting parks and playgrounds. Social gatherings will be limited to six people.
"Madrid's health is Spain's health. Madrid is special," Health Minister Salvador Illa told a news conference to announce the new regulations, due to come into force in days.
However, the president of Madrid's regional government, Isabel Díaz Ayuso, says the measures will "destroy" Madrid, and is now considering an appeal, HuffPost Spain reports.
Madrid has 735 cases per 100,000 people, one of the highest of any region in Europe and double Spain's national rate. Spain has recorded 769,188 cases — the highest in Western Europe — and 31,791 deaths.
— James Martin
Moderna Says Its Coronavirus Vaccine Will Not Be Ready Until Spring 2021 — 9/30/20, 9:22 p.m. ET
Moderna Therapeutics said Wednesday that the drug-making company's coronavirus vaccine won't be available for widespread distribution until at least next spring
CEO Stéphane Bancel told the Financial Times that Moderna would not apply for emergency use authorization from the Food and Drug Administration until at least Nov. 25. An emergency use authorization lets frontline medical workers and at-risk individuals use the vaccine during the pandemic.
Bancel also told the publication that his company will not seek FDA approval for vaccine use in the general population until late January, adding that such an approval will more likely come closer to late March or early April.
Moderna is one of four drugmakers whose vaccine is currently in late-stage testing in people in the United States. The U.S. government announced in August that it purchased 100 million doses of the company's experimental COVID-19 vaccine for $1.5 billion — or $15 per dose.
Moderna joined several other drugmakers in September in signing a pledge to put safety first and adhere to scientific guidelines when developing a COVID-19 vaccine. The vow came amid growing public skepticism as pressure grew from the White House to release a vaccine by the end of the year.
President Donald Trump has repeatedly said that a vaccine will be ready for widespread distribution before the end of the year and has accused the FDA, without evidence, of intentionally delaying vaccine efforts in order to hurt his reelection bid this November.
Dr. Robert Redfield, director of the U.S. Centers for Disease Control and Prevention, testified to Congress that it's more likely that a vaccine won't be widely available until the second or third quarter of 2021.
— Sanjana Karanth
Biden Attacks Trump On Virus Response At First Presidential Debate — 9/30/20, 7:00 a.m. ET
Democratic presidential nominee Joe Biden tore into President Donald Trump over his response to the coronavirus at the first presidential debate held Tuesday night in Cleveland, Ohio.
"He knew all the way back in February how serious this crisis was," Biden said. "He knew it was a deadly disease. What did he do? He's on tape acknowledging he knew it. He said he didn't tell us or give people a warning because he didn't want to panic the American people. You don't panic. He panicked."
Trump claimed, falsely, that his campaign rallies, some of which were held inside with large crowds, haven't contributed to the spread of the disease. He also mocked Biden for wearing a mask too much and again claimed that a vaccine was right around the corner.
Read more about the debate here and here.
— Liza Hearon
Bars And Restaurants In Paris Face Shutdown Amid Rapid Rise In Cases — 9/30/20, 6:30 a.m. ET
Bars and restaurants could soon be completely closed in Paris as France battles a new rise in COVID-19 infections and an increase in hospital admissions.
French health authorities on Tuesday reported 8,051 new COVID-19 infections over the past 24 hours, up sharply from Monday's 4,070, while intensive care admissions were also on the rise.
As of Tuesday, a total of 6,500 people were hospitalized for a COVID-19 infection in France, 85 more over 24 hours. This included 1,204 patients in intensive care units, a rise of 40 since Monday.
A rise in cases in Paris has seen it hit two of the three criteria that would push it into the so-called "scarlet zone," which could see it join Marseille in closing down bars and restaurants, HuffPost France reports.
Should Paris ICU beds reach 30% of capacity the capital would hit France's maximum alert level. "We are a little below 30% in Paris," local government official Anne Souyris said. "At 30%, that means that we find ourselves in a situation where we have to choose who we are going to be able to put in intensive care."
France imposed one of Europe's strictest lockdowns between March 17 and May 11 to prevent its hospital system from being overwhelmed.
— Paul Guyonnet and James Martin
UK Daily Cases Hit Record High As Thousands Face New Restrictions — 9/30/20, 5:50 a.m. ET
The U.K. has recorded more than 7,000 new cases of coronavirus, according to the latest government statistics, the highest single number since the outbreak of the pandemic.
Britain, which has the worst official death toll in Europe and fifth highest in the world, reported 7,143 new cases of coronavirus on Tuesday, and 71 deaths, the worst daily toll since July.
The figures come as tougher restrictions banning people from mixing with other households were introduced in large parts of northeast England, HuffPost UK reports.
U.K. Prime Minister Boris Johnson will hold a news conference on COVID-19 on Wednesday as he grapples with the second wave and growing anger within his own Conservative party over restrictions imposed on citizens.
— Léonie Chao-Fong and James Martin
New York City Infection Rate Spikes To Over 3%, Highest Since June — 9/29/20, 12:30 p.m. ET
After months of hovering around 1 or 2%, the COVID-19 infection rate in New York City spiked to 3.25% on Monday, the highest single-day infection rate since June, city officials said Tuesday.
The spike came on the same day the city's elementary schools reopened to some in-person classes.
Once the epicenter of the pandemic in the U.S., New York City has largely contained the virus over the last few months. But the alarming uptick raises the already mounting concerns over a second wave as the weather gets colder.
In recent days, city hospitals have reported an increase in COVID-19 cases. City and state officials believe the spike is primarily due to clusters of new infections in several predominantly orthodox Jewish neighborhoods in south Brooklyn and Queens. Residents in some of these areas have been lax about social distancing and mask-wearing. Some residents falsely believe they have herd immunity because their neighborhoods were among the hardest hit by the virus in the spring.
On Wednesday, indoor dining is set to resume at 25% capacity, and on Thursday, middle and high school students are set to return to some in-person learning.
Mayor Bill de Blasio has said schools will shut down if the seven-day rolling average reaches 3%. As of Tuesday, the seven-day rolling average was 1.38%.
He announced Tuesday that anyone not wearing a mask will be fined, and said he is considering other measures such as business closures if the clusters continue.
— Marina Fang
Tennessee Titans Report 8 New Positive Cases, Force Evacuation Of Minnesota Vikings Facilities — 9/29/20, 11:30 a.m. ET
The Tennessee Titans and Minnesota Vikings suspended in-person club activities Tuesday after eight Titans players and personnel tested positive for COVID-19. The two teams played against each other on Sunday.
NFL reporter Tom Pelissero said the Vikings also evacuated their team facility Tuesday after personnel had already reported to work, though no known positive cases have been reported there.
In a statement, the NFL said it was working with infectious disease experts to evaluate people who were in close contact with the positive cases, perform additional tests, and monitor developments.
— Ryan Grenoble
Coronavirus Is Now Responsible For At Least 1 Million Deaths Worldwide — 9/28/20, 9:30 p.m. ET
The number of coronavirus-linked deaths worldwide surpassed the 1 million mark on Monday, nearly 10 months after China reported the world's first COVID-19 virus, according to Johns Hopkins University data.
The United States has recorded the highest number of cases and deaths to date, with more than 7 million cases and at least 205,000 deaths. Brazil has the second-highest death toll, with just over 142,000 deaths, and India with the third highest at over 95,000 deaths.
The U.S. death toll is on track to surpass targets set by President Donald Trump's administration. Trump said in April that models estimated the virus could kill as many as 220,000 people nationwide, though he predicted the death toll would actually be "substantially" below 100,000.
Several countries — including the U.S., the United Kingdom and China — have taken the lead in vaccine development as coronavirus cases continue climbing. Researchers were conducting clinical trials on humans for at least 40 vaccines as of Monday.
China and Russia have granted limited approval for a handful of vaccines without awaiting the results of late-stage trials, moves that public health experts say could pose safety risks.
Several vaccines are undergoing late-stage trials in the U.S. Though Trump has promised a vaccine would be available to most Americans by the end of the year, his own health officials and scientists have said that hundreds of millions of doses of a potential vaccine likely wouldn't be available until at least mid-2021.
— Sanjana Karanth
Trump Announces 150 Million Rapid COVID-19 Tests To Help States Reopen Economies, Schools — 9/28/20, 5:10 p.m. ET
President Donald Trump said Monday that the federal government plans to distribute 150 million rapid COVID-19 tests nationwide in the coming weeks, a move aimed at helping states reopen schools despite the virus surging in several parts of the country.
The president said that 100 million of the rapid antigen paper tests from Abbott Laboratories will go to governors, including 6.5 million that will be deployed this week. Though the governors get to ultimately decide who gets the tests, the administration is encouraging them to direct rapid tests to K-12 schools so they can restart and maintain in-person teaching.
"The support my administration is providing would allow every state to, on a very regular basis, test every teacher who needs it," Trump said. "This continues our critical effort to use testing to protect high-risk communities. These new Abbott rapid point-of-care tests are easy to use and return results within just minutes."
The remaining tests will go toward populations vulnerable to the virus. This includes nursing homes, assisted-living facilities, home health care and hospice, historically Black colleges and universities, and tribal nation universities.
The Abbott BinaxNOW test ― which Adm. Brett Giroir, the assistant secretary for health, demonstrated at Monday's briefing ― is a single-use device about the size of a credit card. The test can be self-administered and involves a nasal swab that would then be applied on the device for testing. The test produces results in about 15 minutes.
The shipments come from an order of tests the federal government arranged to buy and announced last month. The Department of Health and Human Services said on Aug. 27 that the Trump administration planned to deploy 150 million rapid tests for the remainder of the year as part of a contract with Abbott, though the announcement did not include when the tests would be districted. The Food and Drug Administration gave emergency use authorization for the test just a day before that announcement.
Vice President Mike Pence said that Americans should expect a rise in COVID-19 cases "in days ahead" due to increased testing, but cases have already been rising as states struggling to contain the virus choose to reopen economies and schools anyway.
Experts have warned that the U.S. could see a spike in infections this fall and winter, and early evidence shows children could be contributing to the spread.
— Sanjana Karanth
CDC Staffers Voice Worry Over Trump Admin Meddling In Public Health Messaging ― 9/28/2020, 11:45 a.m. ET
In recent months, several incidents have heightened concerns among Centers for Disease Control and Prevention officials that the Trump administration intends to transform the agency by ensuring its health guidance to Americans matches the president's cheery messaging about the coronavirus pandemic.
The Washington Post reported Monday that morale is low at the agency following President Donald Trump's public condemnations of CDC Director Robert Redfield, Health and Human Services spokesman Marc Caputo alleging without evidence that CDC staffers are working to oppose the president, and various efforts by Caputo and others to alter the CDC's "Morbidity and Mortality Weekly Reports" in ways that favor Trump politically.
The report says the CDC currently faces a credibility crisis that could become worse if, as some staffers suspect, the Trump administration moves to replace Redfield with a director who is even more deferential to Trump's self-serving wishes. Scott Atlas, a Trump pandemic adviser and Stanford University professor with no public health experience, reportedly may be Trump's pick to replace Redfield if the director were to resign or be fired. Some staffers said they would resign if Atlas took over the role.
Monday's report paints a picture of an agency facing an onslaught of political influence from an executive branch obsessed with manipulating the message.
"The worst is the silence," one CDC scientist told the Post. "You can't explain what's going on, correct mistakes, clarify things quickly before they spin up and out of control."
― Ja'han Jones
Fauci Calls Florida Fully Reopening Bars And Restaurants 'Very Concerning' ― 9/28/2020, 11:20 a.m. ET
Dr. Anthony Fauci, the leading infectious disease expert on the White House coronavirus task force, said Monday that Florida Gov. Ron DeSantis' decision to allow bars and restaurants to fully reopen is "very concerning."
"That is something we really need to be careful about, because when you're dealing with community spread and you have the kind of congregate setting where people get together ― particularly without masks ― you're really asking for trouble," Fauci said when asked about the move during an appearance on ABC's "Good Morning America."
DeSantis, a Republican, signed an executive order Friday to allow bars and restaurants to immediately begin operating at 100% capacity.